By Paul Callister, 17 November 2022
Every great city has a park at its centre. While Paraparaumu is not New York, we can learn from that city's visionary planners. We now have the potential to create a park at the centre of our own community.
Due to a bankruptcy, 28 hectares of centrally located land is for sale in Paraparaumu. This is advertised as prime commercial or residential land, but much of it is wetland with seasonal standing water, as shown by a closeup view of the 'For Sale' sign. This land is flood prone and, aside from the low sand dunes, not suitable for development.
The land
The area being offered for sale is located next to the Kāpiti expressway. To the east is the town centre, Coastlands, and the railway station, while to the west are the expressway and, further over, the current airport. To the south is Wharemauku Stream and to the north, Kāpiti Road.
This land is part of the former great peat swamp that ran from Paekākāriki behind the front sand dunes through much of the district. Most of this wetland has now disappeared. According to the Greater Wellington Regional Council, only about three percent of wetlands remain in the Wellington region. Many of our remaining wetlands continue to be under pressure from the impacts of land use and plant and animal pests.
Peat is a soil type that should not be built on due to its instability, its low bearing capacity and that it is usually associated with flooding risk. Also, as it dries it releases about 30 tonnes of carbon dioxide per hectare each year. Rewetting the peat will stop the release of carbon and restart the sequestration of carbon.
Much of the site for sale is also situated in a flood zone. In a large flood, water potentially spills over from the Wharemauku stream.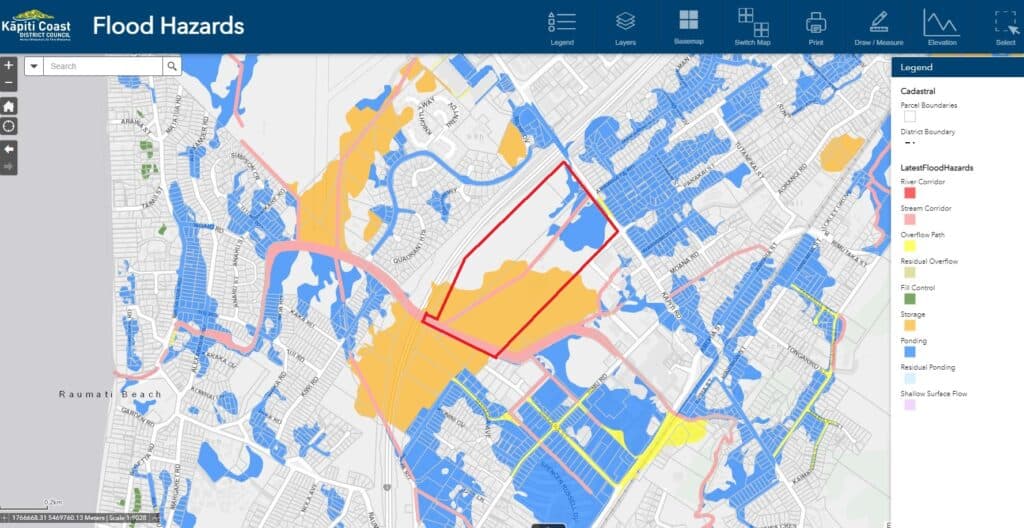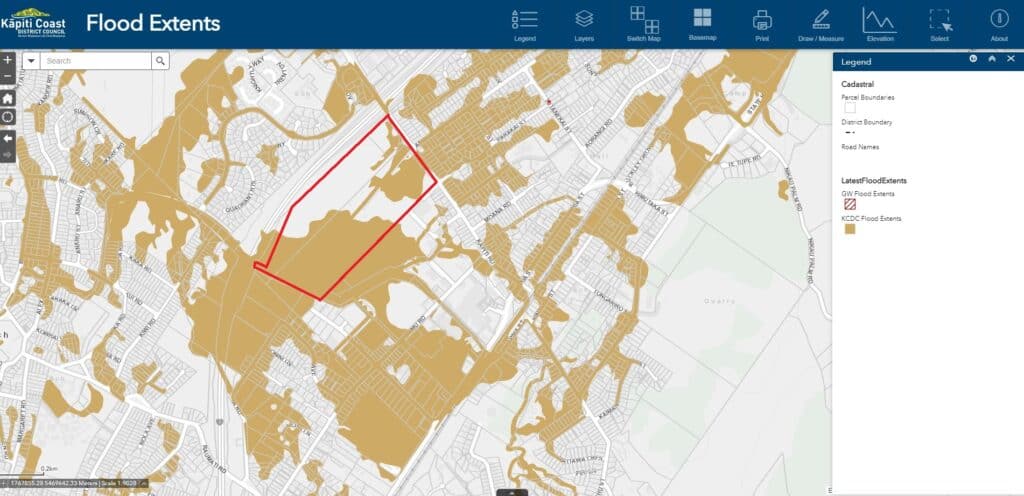 The site is clearly low lying and wet in many areas. It also has a large open drain running through it.
In a recent Low Carbon Kāpiti blog, Alison Lash argues that we should not be building on flood prone peatlands. With climate change taking place, flooding from intense storms is likely to become more frequent, with developers sometimes claiming councils are financially liable for allowing construction on unsuitable land.
Our proposal
We propose that the whole 28 hectares currently for sale be turned into a park. On the small dunes, the park would have open spaces for picnicking and recreation, as well as walking and cycle tracks, while on the flood prone areas there could be restored wetlands and podocarp forests. These would be easily accessible by foot and bike from those housing areas to the south, west and north, as well as be within easy walking distance from Paraparaumu's town centre and railway station. With proposed intensification of housing in the district around transport hubs, the time is ripe to set aside open spaces.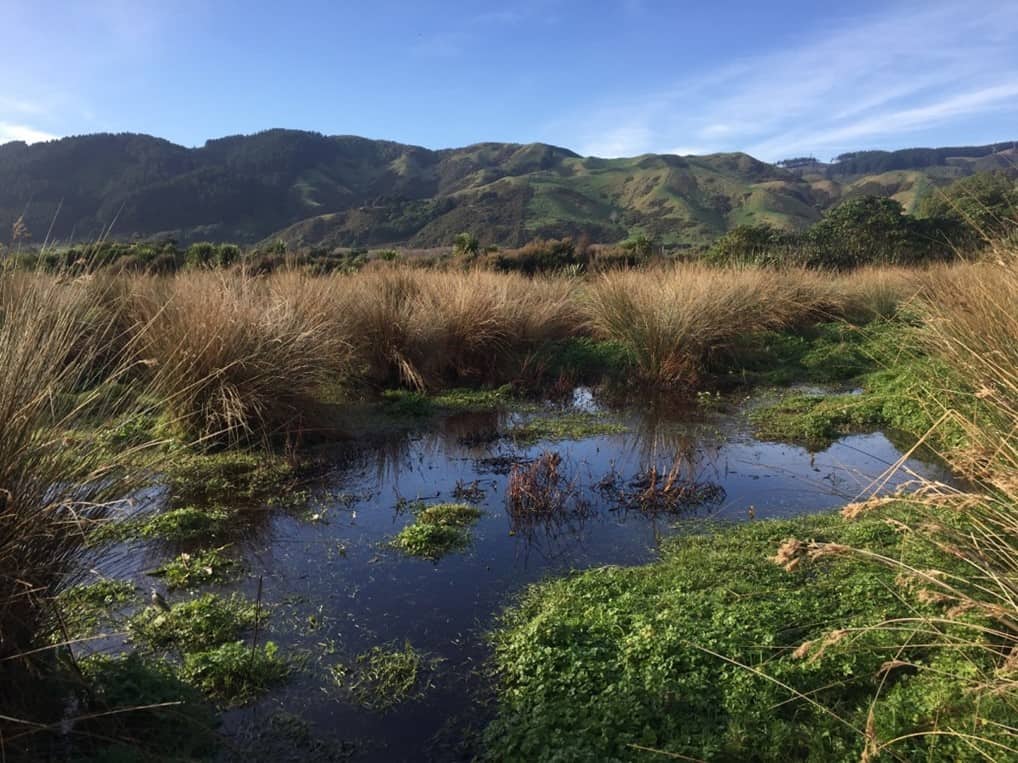 In terms of flood control, this initiative would create a large spill over area to absorb flooding from the Wharemauku Stream
The project to create 'whale song' sculptures, a new local park, and to revegetate the Wharemauku stream fits in well with this concept of a wetland park.
This would be an ideal park linking Coastlands and the town centre with the proposed medium-density houses to be built on the former Kāpiti airport. There has been some concern expressed about a lack of open space in central Paraparaumu should the airport housing development take place. This proposed park solves that issue.
Seizing the Opportunity
This opportunity to create a local park ticks all the boxes. The location could not be better. Carbon release would be reduced. Active and passive recreation in a beautiful area would be convenient for workers and residents of Paraparaumu. The Wharemauku Stream would be enhanced and housing along its banks less likely to be flooded. Wetlands and podocarp forests will bring our much-loved native birds close to the City Centre.
In doing this, Paraparaumu would have its own Central Park.