By Paul Callister and Robert McLachlan, 15 August 2022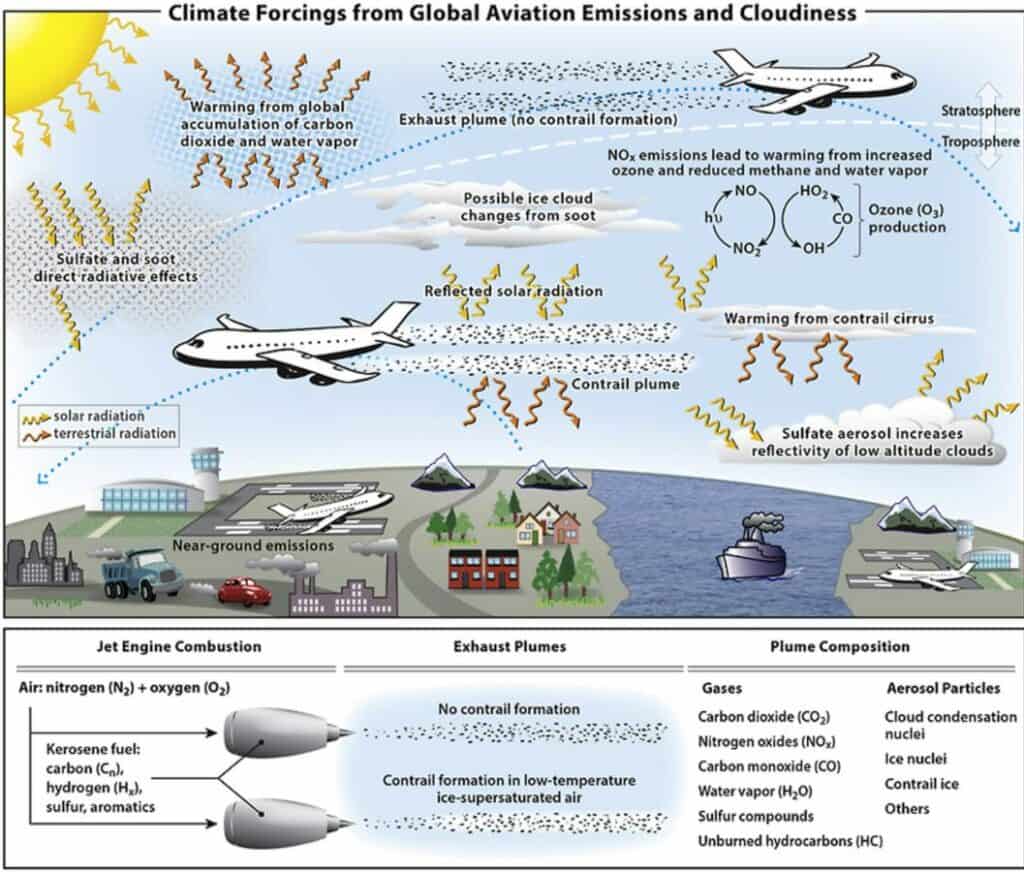 Right now, we burn 10 tonnes of jet fuel every second – that's an Olympic swimming pool every three minutes. To replace this with sustainable aviation fuel would require the current production to be increased by over 1,000 times. Aviation Accelerator Group, 2022
In 2021 at COP26 in Glasgow, New Zealand along with twenty-two other countries joined the "International Aviation Climate Ambition Coalition", committing, amongst other things, to "Preparing up-to-date state action plans detailing ambitious and concrete national action to reduce aviation emissions and submitting these plans to ICAO well in advance of the 41st ICAO Assembly". This Assembly of the UN's International Civil Aviation Organization will take place in September 2022.
It will be a real challenge for New Zealand. We are a nation of flyers. Our per capita domestic emissions are seven times those of mainland UK and nine times those of Germany.
And being an island at the end of the world, our international emissions are also very high. Overall, in 2019 aviation contributed 12% of our carbon emissions. For Kāpiti, in the same year it was estimated that aviation made up 9% of our district wide emissions. Yet, in discussions of aviation emissions, including by Air New Zealand, a global figure of 2.5%-3.5% (depending on what measure is used) is often used downplaying its importance for New Zealand.
Continued expansion
What is more, the industry is pushing ahead with further expansion. Auckland and Wellington airports have goals of increasing passenger numbers. In 2019, 6.4 million passengers passed through Wellington airport. By 2040, the airport expects 12 million passengers to fly in and out of the region every year. This represents a growth rate of 2.9% per year. As a benchmark, over the long term fuel efficiency of aircraft has increased at about 1.3% each year. If this continues, passenger growth will outstrip fuel efficiency gains.
In the South Island, the government and Christchurch council are backing a plan to build a new international airport at Tarras. Air New Zealand is introducing luxury travel options and ultra long flights, both of which increase rather than reduce per capita emissions. Overseas travel for New Zealanders is once again being heavily promoted and industries that depend on flying, such as inbound tourism and international studies are gearing up again for expansion. Aviation is supported by various subsidies, Locally, first Air New Zealand, then Air Chathams, have been supported by Kāpiti ratepayers the latter with a non repayable $500,000 loan. There is no GST paid on international flights, including any domestic legs of such flights. In contrast, it is charged on the already high fare on the Northern Explorer between Paraparaumu and Auckland. And, as another perk, international travellers pay no duty on their airport purchases.
We know forest based carbon offsets are not the answer. In California wildfires have destroyed many of the carbon offset forests.
So how will New Zealand realistically reduce emissions? If we are to keep flying, there are three main ways currently being discussed.
Electric planes
One is electric planes. Small electric planes are already flying. In the medium term they are likely to find a niche for domestic flights. But a recent report suggests that across the globe, even if such planes are adopted wherever possible, by 2050 such planes will only lead to a reduction of 0.2% of expected aviation emissions.
Hydrogen
Hydrogen is promoted as another solution for powering flights, especially long haul flights. Airbus is aiming for hydrogen-powered flight by 2035. But no such commercial aircraft exist at present, and the challenges  are large.
"Zero-emission" aircraft do not enjoy the energy efficiency gains of electric or hydrogen land transport, because the batteries or tanks have to be lifted. A schematic hydrogen aircraft is actually less energy-efficient than a standard aircraft, due to its very large, heavy tanks. If these aircraft do become a reality, they would need to be supplied with electricity or hydrogen. The energy required is significant. Mason et al. find that under business as usual growth in aviation, 42 TWh of electricity would be needed by 2050—equal to New Zealand's entire current supply, and dwarfing the 7 TWh of fossil fuel-fired electricity which the government is currently hoping to phase out.
Biofuel
Given the existing fossil fuelled fleet of New Zealand aircraft, and those from other airlines flying to and from New Zealand, are likely to be flying for the foreseeable future the third option to keep flying is biofuel.
There are first and second generation biofuels. First generation, are based around feedstocks such as corn, sugarbeet and, perhaps worst of all, palm oil. There is also a small niche supply based on feedstocks such as used cooking oil.
Low Carbon Kāpiti is leading a campaign opposing the proposed fuel obligation. While the obligation currently excludes aviation, there is an intention to consult on aviation this year.
There is real concern that food crops will be used to feed planes rather than hungry mouths. Recognising this concern, the European Parliament has just barred the use of intermediate crops and palm oil by-products (PFADs), from Europe's aviation green fuel mandate (ReFuelEU). There remains debate about excluding animal fats. The reason for excluding animal fats is they are used in competing industries, creating shortages in sectors that already use them. Palm oil is very often the chosen substitute for animal fats.
E-kerosene
The European Parliament has also shown a preference for synthetic fuels over biofuels. The main synthetic fuel available now is e-kerosene, generated by combining green hydrogen (H2) and carbon dioxide (CO₂). The Parliament also expanded the definition of synthetic aviation fuels to being based around renewable electricity and green hydrogen.
Research by a Cambridge University led group, Aviation Impact Accelerator , shows the challenge of producing such fuels on a large scale.
"Powering all current aircraft using synthetic fuels would require 40% of the world's electricity production, or all of the world's low-carbon renewables and nuclear to be used just on air travel."
Fuel from wood waste
Air New Zealand, as part of a consortium, has shown a preference for using second generation biofuels. These are – in theory – primarily made from forestry waste. Air New Zealand has set a target of reducing emissions by 16% by 2030, primarily based on the use of these alternative fuels.
In a pathway set out in 2021 (shown in the image below) slowly the amount of biofuel used increases, at 7.5% by 2030 and reaching 50% by 2050. One challenge in this scenario is that if air traffic does grow at the rate local airports want, then use of biofuel and use of fossil fuels can both increase giving no reduction in emissions.
In 2018 Scion produced a report on biofuels. Scion said "biofuels are the only viable option for sustainable long-haul aviation as electric- and hydrogen-powered options are currently impractical".
It is a real challenge to produce biofuels from wood given the need to break down lignin and cellulose. The processes are primarily still within labs with currently no large scale plants operating in the world. There remains a question over the net energy gains given the requirements to collect the waste wood, to process it then transport the fuel to users.
The Scion report worked out various scenarios for all transport biofuels and one included replacing 30% of all liquid fuels used in New Zealand. They estimated 43 processing plants would need to be built with a then estimated cost of $6.8 billion. This cost is likely to have increased considerably. Four years later, there are no plants under construction in New Zealand.
There have been two further reports on the potential of wood for energy production. The first was the Wood Fibre Futures Stage one report (mpi.govt.nz). Then in 2022, Te Uru Rākau NZ Wood Fibre Futures Project Stage Two Report Final Main Report (mpi.govt.nz) was published. Both reports suggest there are major technical and financial concerns around producing liquid fuels suitable for use in aviation. In contrast, although not without its own problems, directly burning waste wood for heating is much more attractive option for using the resource.
In 2022, Air New Zealand stated that, depending on the outcome of a tender to scope out the future of such fuels, the airline hopes to see a plant commissioned and producing SAF in New Zealand in around 5-7 years. This suggests that any goal to use SAFs before this time will rely on imported fuel.
Are SAFs the answer?
As discussed, SAFs produced in an environmentally sustainable way will play a part in decarbonising aviation. This is where policy settings are very important. We need to make sure we are not feeding planes with crops that should be feeding the world. They need to be produced using renewable energy. And they should not be subsidised. Flyers need to pay the real costs. In an article comparing EU and US policy, Dan Rutherford concludes "[t]he EU is developing a comprehensive, concrete policy framework to promote the best SAFs, paid for by the polluters themselves. The US is considering short-term subsidies for airlines that may do little to unlock new supply."
Flying less
Finally, there is a fourth pathway. It is currently the only short to medium term effective way of reducing aviation emissions. That is flying less.
What would cause people to fly less? And is it reasonable to return to the levels of flying of a decade ago? Social change is hard to predict. But increasing awareness of the impacts of climate change means that most people are aware that something has to change. Ending the free ride currently enjoyed by international flyers and putting their fossil fuel use on the same playing field as that of other emitters – by bringing it into the ETS, say – would go some way towards moderating demand, raise money for decarbonisation, and bring its eye-watering energy and cost requirements closer to within reach.
Domestically, the creation of a highly efficient, affordable low emission land-based transport network, based around trains, would greatly assist flying less. This would also require a large capital investment. But unlike investments in SAF plants, the ongoing renewable energy requirements are very low. The government has started to show some interest in long distance trains with an inquiry into regional train travel announced in early August.
Possible aviation decarbonisation pathways are discussed more fully in our paper Managing New Zealand's greenhouse gas emissions from aviation.